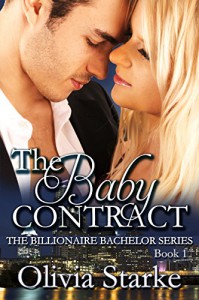 I really enjoyed this story by Olivia Starke. I found myself fully engrossed from the time I started until I finished it.
Liam is a hot shot rich guy who doesn't get his company if he doesn't have an heir a year after his father passed. So what's he do, finds a woman to have his child. It should be cut and dry, impregnant her and then send a monthly check. It's never that simple.
Abby wants a child and when Liam asks here and after much thought, it seems like the way to go.

I loved that Abby assumed they'd be doing artificial insemination and Liam quickly tells her they are having a baby the natural way.

If you're looking for a fun and sexy contemporary romance, check this one out. I can't wait for the next in the series.